Enlighten Chiropractic offers a welcoming atmosphere for practice members of all ages and backgrounds. Our goal is to make sure you feel understood, accepted, and to help you recognize the role you play in your own health. In only two simple visits, you and your family can call our practice your new chiropractic home!
New Practice Members Welcome
We welcome individuals of all ages to join our practice community. Your first visit with us will include the completion of your initial paperwork, one-on-one consultation with Dr. Nick or Dr. Brielle, and a noninvasive neurological and physical examination. Together, these procedures will provide us with the information we need to develop a clear picture of your overall well-being as well as how we can best help you moving forward. Please plan to be in the office for up to 45 minutes for this appointment.

Your second appointment with us will be dedicated to your report of findings. At this time, we will briefly discuss your existing health condition, review the results of your previous examinations, and discuss your suggested plan of care. Be sure to communicate any questions or concerns you may have regarding your upcoming care. Your comfort is important to us! Lasting no longer than one hour, this appointment will conclude with your first chiropractic adjustment.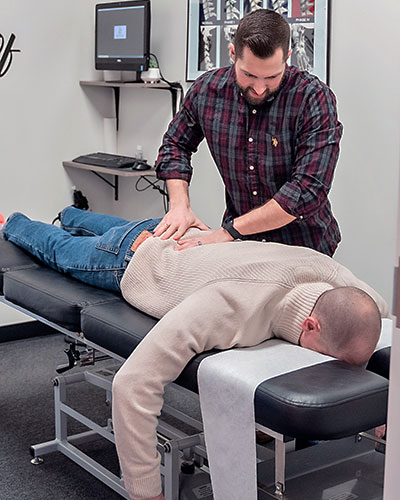 Every practice member is unique, requiring different attention. For this reason, the frequency of care and duration of visits depend on the individual. Typically, however, Enlighten Chiropractic works to make ongoing chiropractic visits as quick and efficient as possible, with most taking no more than 10 minutes from start to finish.
We believe that health and healing take time and repetition. As you progress through care and your health improves, frequency of visits will naturally decrease. Although we do not require lifelong care, we do encourage our practice members to continue getting checked on a regular basis.
There are always going to be physical, chemical and emotional stressors in your life that overwhelm your central nervous system. Let us help you overcome natural wear and tear more efficiently with quality chiropractic care. You are worth it!
Contact our Lakeville practice for more information about how to begin your chiropractic journey. We are on your side.